Smocking, Anyone?
When I was expecting our first child, I took a smocking class. I had visions of making lots of clothes for the new baby.
The class was fun, and I even bought a pleater because we moved away from the pleating shop, and I had to pleat my own fabric. I did smock some clothes but probably not enough to pay for the pleater.
I have some needles in the pleater but no thread.
Smocking isn't as difficult as it may appear. Basically, it's embroidering on top of pleated fabric. Here are some pictures of dresses I made for my daughters.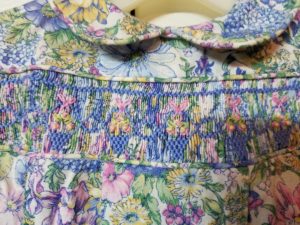 Here's an insert that I never sewed into a garment.
And one more.
Any smockers reading this? Have you ever smocked anything beyond children's clothes?