Christmas Cookies
Two things I like best about December are sending Christmas cards and baking cookies. We mail over two hundred cards, and I bake at least twelve different kinds of cookies. In a family of six, you need a lot of cookies, especially since we make cookie trays and give them to friends, too.
In our old neighborhood, for every tray we sent out, we'd receive a tray back filled with different cookies. We always had our favorites on those trays, too.
It's almost mid-December, and I'm behind on both. Last week, we attended Handel's Messiah at West Point. Fabulous! This weekend, we're cheering Army on to a victory at the Army/Navy football game in Baltimore.
Go ARMY! Beat Navy!
So Monday afternoon, I'll start on the list of cookies you see below.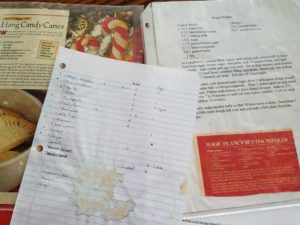 This is the list of cookies I made a few years ago to correspond to a shopping list—how many sticks of butter, eggs, cups of flour—so that I wouldn't have to keep going to the grocery store.
The two recipes underneath the list are our favorites: Candy Canes and Magic Middles. I usually make those last because they get eaten quickly, not leaving many for the cookie trays. I also wait so that returning children can help with these labor-intensive cookies.
I like to try new recipes, too. If they're good, we keep them in the lineup. If not, I cross them out and don't make them again. This year, I'm looking for a good salted caramel cookie.
What's your favorite cookie?