Three New Crochet Projects
My job is a writer, but for the past few weeks I haven't written a whole lot. I pretty much took December off so that I could enjoy my family through Christmas and New Year's. Between the cooking and playing board games and cooking and washing clothes and cooking and playing euchre and making sandwiches, I managed to crochet while we watched movies and some recorded sitcoms.
I didn't completely stop writing. I wrote a few Facebook posts. Sent some emails. Retweeted a few things, and yesterday after my last son drove back to college, I wrote a post for almostanauthor.com. It'll post later this month.
Today I'm continuing to creep back into the writing world with this post for my own website. I thought I'd share what I've crocheted.
I started with this mini scarf.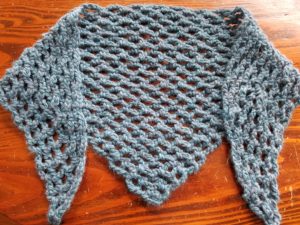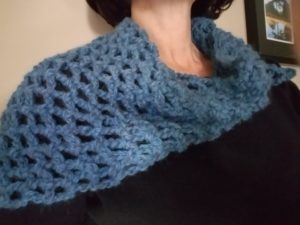 This is what it looks like around my shoulders.
The yarn is a skein of the softest yarn I've felt in a long time. I found it in a cool yarn shop on the Outerbanks in November of 2015. My friend, Lisa, and I were taking a break from a writing retreat. The languished in the clearance bin. I tried so hard to find another skein of this sweet yarn, but it was the only one. I bought it anyway because I love the color, and did I mention how soft it is? Some people might think the scarf's short, but I think it'll be perfect. (When I say "people," I mean the NC State Fair judges because I'm contemplating entering these pieces in October. We'll see.
Then I tried this pattern called Clematis Insertion.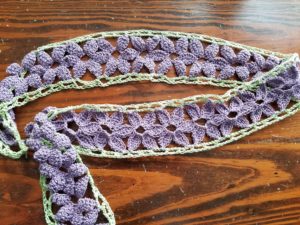 It's interesting because you crochet one side of the petals to your desired length, then crochet back to the beginning. You don't have to sew together all those flowers. Maybe once I block this scarf, the flowers will lay flat.
A Pinterest pin grabbed my attention with this beautiful picture of a shawl. This pattern by Amy Gunderson is free on Ravelry.com.
I love the variegated blue yarn.
Here's my version with hand-dyed (my own hands) yarn from Heelsides Farm in Four Oaks, NC.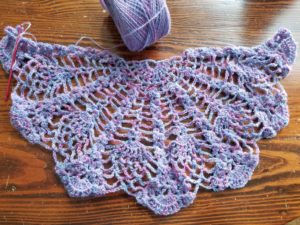 This yarn is special because I visited with the sheep it came from. I was writing Irish Encounter at the time and wanted to check out a real sheep farm. Owner Carolyn Beasley tried to teach me to spin wool and taught me how to dye it. The colors range from pink to lavender to purple.
In true wool fashion,this wool is a little scratchy, and the measurement is a little smaller than the one in the pattern. I think it'll be fine, though.
So, that's what I've been up to. I haven't been writing on my normal schedule, but I wasn't a slacker either. Plus, I have some pretty, new scarves to wear!