A Good Man…
I'm not really a gushing kind of person. Although I write love stories, you'll never see me use words like soul mate or love of my life. Despite my lack of gushing, I've been married for twenty-eight pretty good years.
And this week my choice of mate was confirmed again.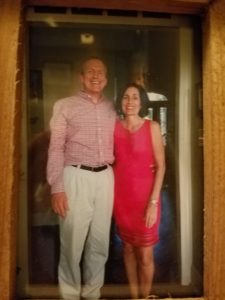 Sunday morning, Kevin ran in the Army Ten-Miler in Washington, DC, for the third year in a row as part of the Fisher House team.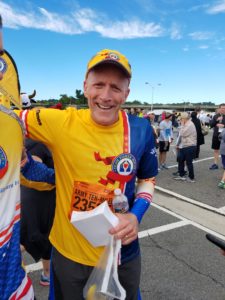 He won't tell you this, so I will. He was the top fundraiser for Fisher House (think Ronald McDonald House for military families.) He was also the person who had the most donors.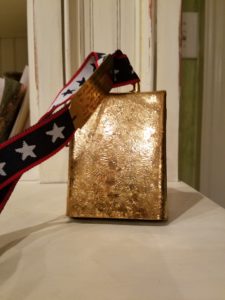 In fact, he received a golden cowbell for his efforts, which could possibly be used to celebrate first-time voters in November when I'm working the polls.
Our original plan was for Kevin and Anna to drive from Washington to Pittsburgh and work from there till Wednesday. I was supposed to fly back to Raleigh.
Hurricane Matthew had other plans for us.
When we talked to my parents after the race (he shaved three minutes off last year's time, by the way), he decided to drive back home to check out the damage.
If we compare our problems with other people's, Matthew's footsteps on our house and property were minor. We had a tree down blocking our driveway, but friends removed it before we returned. Water rose to about three and a half to four inches in our basement, but it had receded to about an inch or so by Sunday night.
Our dining room ceiling leaked and was damaged, and the rug was wet. The floor may buckle some.
We didn't have running water in our faucets, but we didn't lose power. Praise God!
After running ten miles, driving three hours (Anna drove the last two), he worked with Anna and me in our basement for two and a half hours to clear out the rest of the water. Early Monday morning, he drove with a co-worker/friend for eight hours to Pittsburgh. That afternoon, he attended his scheduled meeting.
(The floor without the water!)
(The floor with the fans and dehumidifier.)
He didn't tell me everything would be okay and then hop in a car headed to Pittsburgh. He didn't pull the hurricane/exhaustion card and skip out on people who expected him. He took care of his family and then met his business obligations.
That's the kind of man he is.
Does he make me crazy when he chews too loudly (with his mouth closed)? Yes. When he uses the back of my shirt to dry his hands? Uh huh. When he can't say liberals without putting flaming first? Absolutely.
But as someone who has my back, wants the best for me, prays for me and our children (and a long list of others on his knees every night), he's the real deal, people.
Anna, Hattie, Lane, and Quinn, you're welcome.